Nowhere are there more entrepreneurs than in sub-Saharan Africa (GEM, 2019). And that's exactly what we rely on with Impacc.
If you want to learn more about our partnering venture Gjenge Makers and our work in the sub-Sahara, we recommend the ZDF documentary "Business instead of Gifts". 
Does this fit together, thinking development cooperation in a more entrepreneurial way? This is the topic that Till Wahnbaeck – the founder of Impacc – discusses in the brand eins podcast.
Support Coco Vita with their mission of empowering Kenyan rural coconut farming communities.
We believe in the power of the individual, their dreams and their drive, to change fortunes and improve futures. That's why we don't donate to the poor. We invest in people.
As a non-profit we build green start-ups in Africa. Not giving to those in need, but instead empowering them as producers, artisans, business leaders, retailers … Turning development aid into social investments that provide not only jobs and growth, but purpose, dignity and prospects. In short: Better futures, for all of us.
Impacc – business for better
Business as a force for good
Traditionally, donations are used to start an aid project; when the money is spent, the project ends and a new project starts with new money, often in the same place.
We at Impacc invest your donations in socially and ecologically sustainable local businesses that generate returns, not only for themselves but for their entire community. We start the engine of development – and make sure it keeps running.
Your donation creates jobs and prospects for people who currently live off less than $2 per day.
Our Ventures
It is Impacc's mission to support social and sustainable enterprises in fragile markets in building local businesses with local resources for local workers and consumers. We then help them to scale their proven concepts by growing geographically and spread their positive impact.
To do this, we set up joint ventures with local entrepreneurs, advise them on scaling the business model, and connect them with potential franchisees.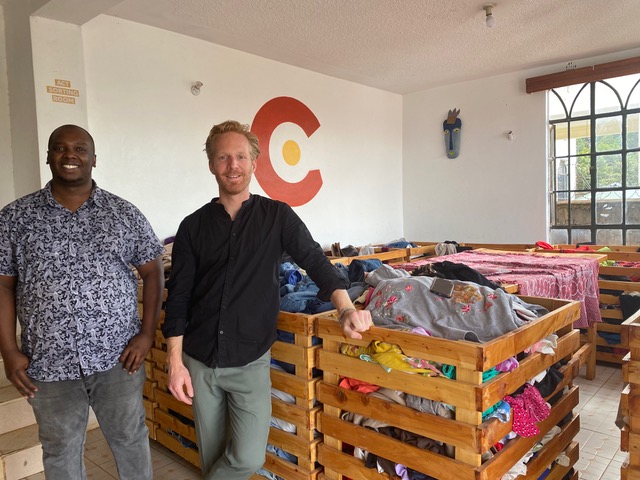 Africa Collect Textiles
Kenya
Status: Scaling
HQ Location: Nairobi, Kenya
Jobs created: 51
ACT Ltd is a social enterprise that is creating an inclusive textile value chain by installing business units for collection, sorting, recycling, upselling and reselling of used textiles and footwear. They aim to not only provide low-income communities with decent and affordable outfits, but also to build the foundation for a circular fashion industry.
CoCoVita
Kenya
Status: Fundraising
HQ Location: Kaloleni, Kenya
Jobs created: 187
CoCoVita is a social enterprise that is supporting and empowering Kenyan real coconut farming communities with producing cold-pressed Extra Virgin Coconut Oil locally. They aim to providing an efficient, fair and reliable market, spurring rural industrialization and creating decent local job opportunities.
WASHKing
Ghana
Status: Validation

Many peri-urban dwellings in Ghana don't have any toilets or functioning sanitation. People resort to open defecation which can be humiliating and dangerous. It is also one of the main reasons for waterborne diseases such as diarrhea, a widespread cause of infant mortality in Africa. Existing septic tanks and pit latrines smell badly, need to be emptied regularly and tend to overflow, especially during rainy season. WASHKing bio-digester toilets are odor free, only need to be emptied every 5 years and allow peri-urban communities better hygiene, health and safety.
Gjenge Makers
Kenya
Status: Fundraising

Plastic waste management is an issue in Kenya as much as the rest of the world with an estimate of about 260.000 tons generated every year, only 15% of which are being recycled. On the other hand, a lack of affordable building materials contributes to a housing crisis that keeps 6 out of 10 households living in slums. 
Gjenge Makers tackle both problems with one solution, turning plastic waste into building materials like paving stones and building bricks, creating jobs for women and young people in their production and the recycling industry.
Subscribe to the Impacc Newsletter
Discover all the possibilities and rewards of Impacc donations. 
Our supporters & partners
Many thanks to our partners who have helped us create impact from the start: