Did you know that Sub-Saharan Africa has the highest percentage of entrepreneurs in the world? We often look at Africa as a continent of problems only. But people's potential is equal everywhere, only their opportunities are not.
We like to see the potential behind the poverty. And give people a little help to get off the ground and walk into brighter futures. And day in and day out we're amazed by the number of genius ideas and the entrepreneurial spirit we meet in many African countries. So far, we have started working with a few partners in Ethiopia, Kenya, Uganda and Ghana, who are at varying stages of their development. Watch this space for more to come.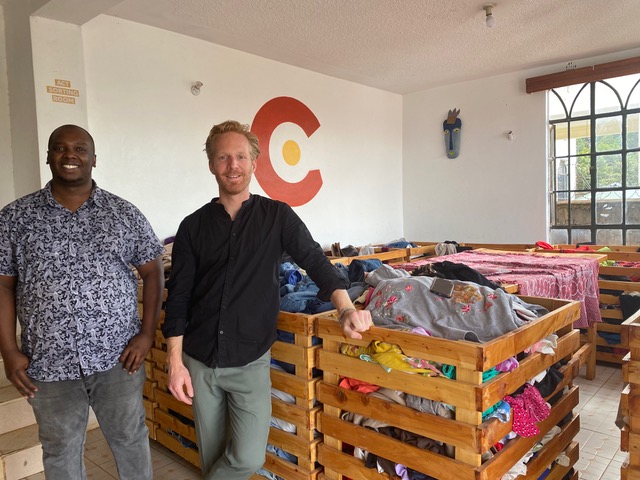 Africa Collect Textiles
Kenya
Status: Fundraising
HQ Location: Nairobi, Kenya
Livelihoods improved: 205
Jobs created: 51
ACT Ltd is a social enterprise that is creating an inclusive textile value chain by installing business units for collection, sorting, recycling, upselling and reselling of used textiles and footwear. They aim to not only provide low-income communities with decent and affordable outfits, but also to build the foundation for a circular fashion industry.
CoCoVita
Kenya
Status: Fundraising
HQ Location: Kaloleni, Kenya
Livelihoods improved: 25
Jobs created: 187
CoCoVita is a social enterprise that is supporting and empowering Kenyan real coconut farming communities with producing cold-pressed Extra Virgin Coconut Oil locally. They aim to providing an efficient, fair and reliable market, spurring rural industrialization and creating decent local job opportunities.
MakaPads
Uganda
Status: Scaling
HQ Location: Kampala, Uganda
Livelihoods improved: 600
Jobs created: 20
Many girls don't go to school during their periods; pads are expensive and clog up toilets.
​Our compostable pads from Uganda are made from papyrus and used paper, create local jobs and empower girls to go to school.
Impacc Stove
Ethiopia
Status: Build-Up
HQ Location: Addis Ababa, Ethiopia
Livelihoods improved: 25
Jobs created: 2
Standard wood stoves destroy forests and lungs. Our gasifier from Ethiopia produces charcoal while cooking, which can be turned into bio-char fertiliser and sold. Local technology using clay and used oil cans. Mini-franchises build, sell, repair ovens and market fertiliser for soil improvement.
WashKing
Ghana
Status: Investment candidate
HQ Location: Accra, Ghana
Livelihoods improved: 1.530
Jobs created: 17
Many peri-urban communities don't have access to proper sanitation. Pit toilets tend to overflow during the rainy season. Our bio-digester toilets in Ghana reduce fecal waste by 90% and turn the solid matter into fertiliser. The pay-per-use model is affordable for poor households, ensuring the dignity, safety and hygiene pit latrines, let alone open defecation cannot provide.
Gjenge Makers
Kenya
Status: Investment candidate
HQ Location: Nairobi, Kenya
Livelihoods improved: 112
Jobs created: 112
Only 15% of plastic waste generated in Kenya ist recycled. Expensive building materials significantly contribute to the lack of affordable housing. The Gjenge Makers paving stones made from plastic waste are 7 times stronger than concrete blocks while only weighing half and contributing to the circular economy.
Your donation creates jobs and prospects for people who currently live off less than $2 per day.