Building material from plastic waste
Status: Fundraising
Head office: Nairobi, Kenya
Gjenge makers offer sustainable, affordable alternatives to traditional construction materials by turning plastic waste into paving tiles and drywall bricks, tackling two problems – plastic pollution and the Kenyan housing crisis – with one solution. 
Gjenge Makers use plastic waste shredded into small pieces and mix it with sand. The mixture is then heated and molded into the final shapes. Gjenge plastic paving bricks are up to 7 times stronger than concrete blocks while only weighing half, thereby saving logistics costs and CO2 emissions.  
Plastic waste is a worldwide problem with currently only 20% of all plastics going into recycling. In Nairobi alone, 500 metric tons of plastic waste are being generated every day. Gjenge makers takes in free plastic waste that cannot be recycled any more from packaging factories, topped up by additional material from recycling plants. 
Currently they have the capacity to produce 1500 paving bricks per day. With equity investment, they could scale their daily production up to 4500 bricks and move into the housing bricks sector.
Economics
Stable earnings in production for women and youth groups

Increased income for garbage collectors

Stronger construction industry due to more affordable materials
Climate
Contributing to circular economy

Less CO2 emission during transportation
Health
Better health through better housing and sanitation
Why Gjenge Makers?
Even though the Kenyan government, like others on the African continent, have banned plastic bags in 2017, there is still a lot of plastic waste littering both land and marine environment.
On the other hand, there was an estimated accumulated housing deficit of over 2 million units in 2017, that is only set to worsen until 2050 due to increasing urbanisation and construction falling significantly behind demand. This deficit forces especially low income households to unnecessarily live in slum dwellings.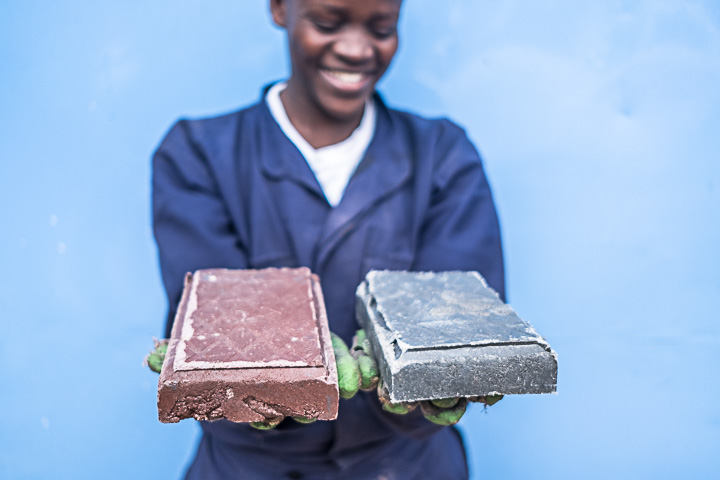 Traditionally, construction in Kenya strongly relies on stone and cement, subject to any price movements or increase in taxation on these materials. An alternative, affordable solution can therefore help taking off the pressure on the housing market and get low income households into decent housing. 
Home ownership has been proven helpful in building more stable societies and economies. Owning a house that can increase in value, motivates people to look after their property and its neighbourhood, potentially lowering crime rates and improving overall quality of life and even lowering birth rates. Safer construction and improved sanitation further lead to better health. 
Nzambi Matee
Nzambi is a materials engineer from Nairobi with a bachelor's degree in physics, a curious mind and boundless entrepreneurial energy. She was named Young Champion of the Earth 2020 Africa winner at the United Nations Environment Programme (UNEP). Together with a team of fellow engineers, all tired of standing on the sidelines watching plastic waste pollute the Kenyan landscape, she decided to find a solution for the problem.
WashKing
Ghana
Biodigester toilets for underprivileged communities
Noah Stove
Ethiopia
Earn money while cooking
MakaPads
Uganda
Sanitary pads from papyrus
Your donation creates jobs and prospects for people who currently live off less than $2 per day.