Status: Exit
Head office: Addis Ababa, Ethiopia
First production site and training centre: Wondo Genet, Ethiopia

The Noah Stove is a gasifier that doesn't burn wood to ash during the cooking process but gasifies it to charcoal. This can be reused for fire or it can be turned into biochar, an organic fertiliser that improves soil fertility long-term. An Noah Stove saves 1,9t CO2/ year compared to standard cooking processes.
 Economics
Money savings on fire wood
Stove cost made up through savings after 2.2 months
Income opportunity selling charcoal
Climate
Up to 60% less firewood used
Slowing of deforestation rate
1.941t reduction in

CO₂

emissions per stove per year
Health
Smaller risk of lung diseases through smoke inhalation
Lower burn risk due to lower surface temperature (<30°C)
Your donation creates jobs and prospects for people who currently live off less than $2 per day.
Why Noah Stoves?
The inventor of the clay gasifier, an Ethiopian-trained clay expert, had a very simple insight: Wouldn't it be great if poor women could earn money while cooking? Plus, the gasifier is made sustainably of clay, straw and water, and the burning chamber consists of used oil cans. The stove can be produced locally, creating local jobs. And it empowers women to make some money while cooking, providing not just food but future opportunities for themselves and their families.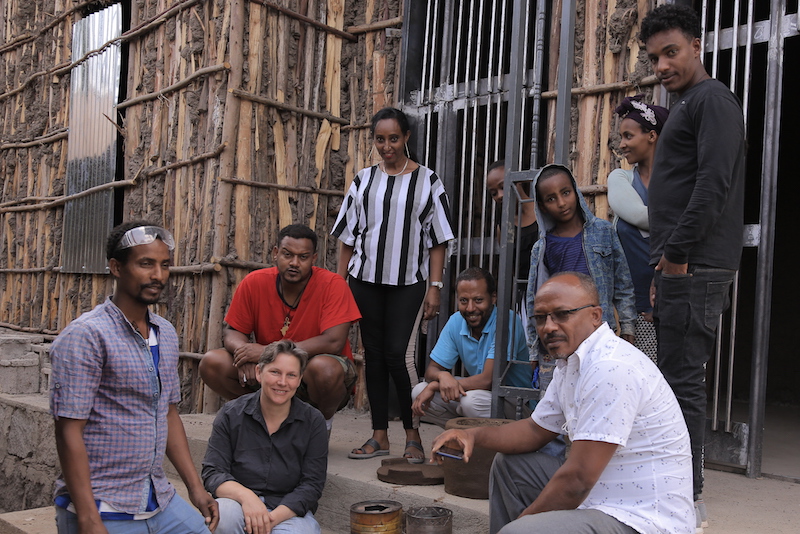 The social background
80% of African women cook on open wood fires which is costly and leads to lung diseases and severe deforestation. Many aid organisations have developed energy-saving stoves, but adoption rates have generally been low.
Using charcoal as an organic fertilizer is an even more efficient use of wood and improves soil fertility. This in turn will lead to higher crop yields.
WashKing
Ghana
Biodigester toilets for underprivileged communities
Gjenge Makers
Kenya
Building materials from plastic waste
MakaPads
Uganda
Sanitary pads from papyrus